M17, The Swan Nebula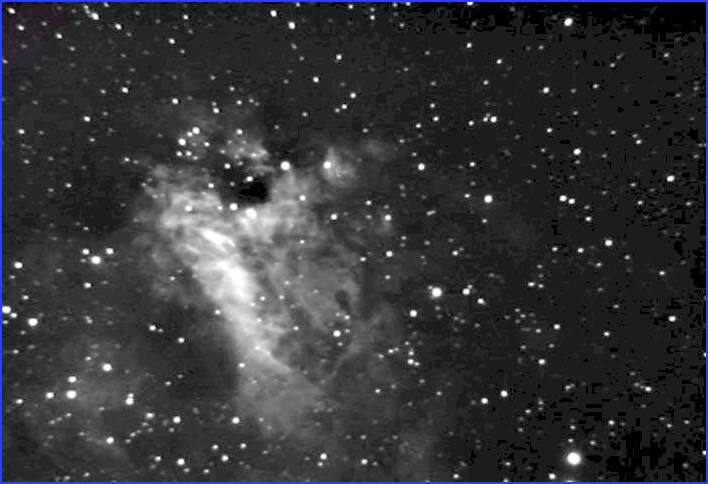 M17 (NGC 6618), Magnitude 6.0 Emission Nebula, Size 11.0'x11.0', Constellation: Sagittarius.
Image Details:
Scope: Celestron Ultima 8 OTA.
Mount: Celestron AS-GT.
Camera: Adirondack Video Astronomy Stellacam II.
Configuration: f/3.3 focal reducer, visual back .
Effective Focal Length: 609mm, f/3.
Guiding: None.
Location: Chiefland Spring Picnic, Chiefland, FL.
Date: 28 April 2006.
Post Processing: Registax 3, Adobe Photoshop.
Procedures: Video recorded to DVD, converted to .avi (with FlaskMPEG) stacked with Registax 3, and processed with Photoshop.
M17, the great Swan (or Omega, or Horseshoe, or Lobster (!)) Nebula is one of those wonderful objects that look outstanding in any sky. It shows up much better under less than perfect conditions, in fact, than its more famous neighbor, the Lagoon.
This immense Swan swims black seas about 5,000 light years from us. Like the nearby Eagle, this is a star-forming region.
There was little doubt that the Stellacam would show up the basic Swan body, but I was gratified to see that it also brought out quite a bit of the other nebulosity that enwreathes this area...
---
Return to Uncle Rod's DSI/CCD Page
---