M106, NGC 4258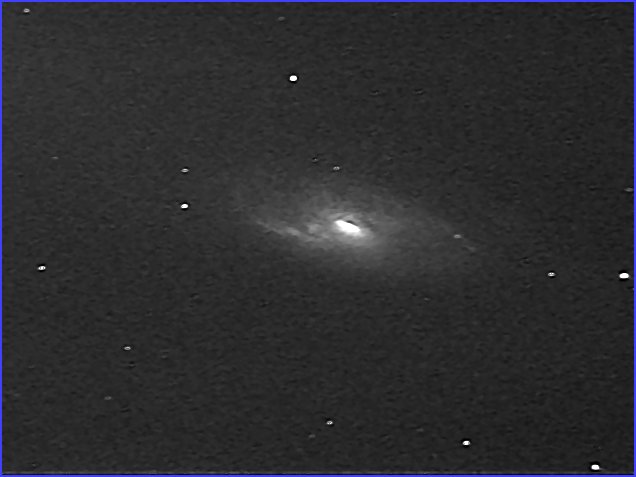 M106, Magnitude 8.4 Sb Sprial Galaxy, Constellation: Canes Venatici, Size 19.0'x8.0'
Image Details:
Scope: Celestron Nexstar 11GPS.
Mount: Above
Camera: Adirondack Video Astronomy Stellacam II.
Configuration: f/3.3 focal reducer, visual back .
Guiding: None.
Location: MAS Tanner-Williams Dark Site
Date: 10 March 2007.
Post Processing: Registax 3, Adobe Photoshop.
Procedures: Video recorded to DVD, captured to .avi with a frame grabber and K3CCD Tools, stacked with Registax 3, and processed with Photoshop.
This huge galaxy gives up a lot of detail in the eyepiece, but on the video screen begins to look like a long exposure photograph, showing off much of the same detail seen on deep CCD images.
M106's inclination is similar to that of M31, and it shows off many of the same details as that much closer galaxy (M106 is about 25,000,000 light years distant). Carl Seyfert originally classed M106 as one of his "peculiar galaxies," but it's rarely mentioned with the other Seyfert galaxies today despite being a strong radio emitter.
---
Return to Uncle Rod's DSI/CCD Page
---