NGC 6888 The Crescent Nebula in Cygnus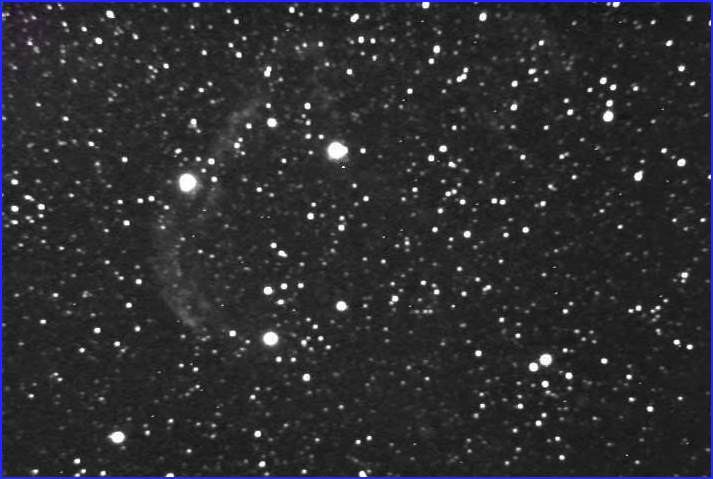 NGC 6888 (LBN 203), Magnitude 10.0 Emission Nebula, Size 20.0'x10.0', Constellation: Cygnus.
Image Details:
Scope: Celestron Ultima 8 OTA.
Mount: Celestron AS-GT.
Camera: Adirondack Video Astronomy Stellacam II.
Configuration: f/3.3 focal reducer, visual back .
Effective Focal Length: 609mm, f/3.
Guiding: None.
Location: Chiefland Spring Picnic, Chiefland, FL.
Date: 28 April 2006.
Post Processing: Registax 3, Adobe Photoshop.
Procedures: Video recorded to DVD, converted to .avi (with FlaskMPEG) stacked with Registax 3, and processed with Photoshop.
The Crescent Nebula is one of those legendary dim objects that draw deep sky observers and imagers. And this swath of emission nebulosity is a challenge for visual observers. The little cloud, which lurks near Gamma Cygni, is reluctant to make its presence known in anything smaller than a 12-inch telescope stationed under dark skies and equipped with an OIII filter. It's remarkably easy for the electronic imager to capture, however.
The Crescent Nebula is quite a different beast from most emission nebulae, having more in common with supernova remants than with clouds like M42. This nebula is the product of the death throes of a star. Its progenitor, a Wolf-Rayet star, has thrown off its outer layers, which now form the Crescent.
This nebula was easily visible on the monitor in real time, even with a red filter covering the screen...
---
Return to Uncle Rod's DSI/CCD Page
---