M8 (The Lagoon Nebula)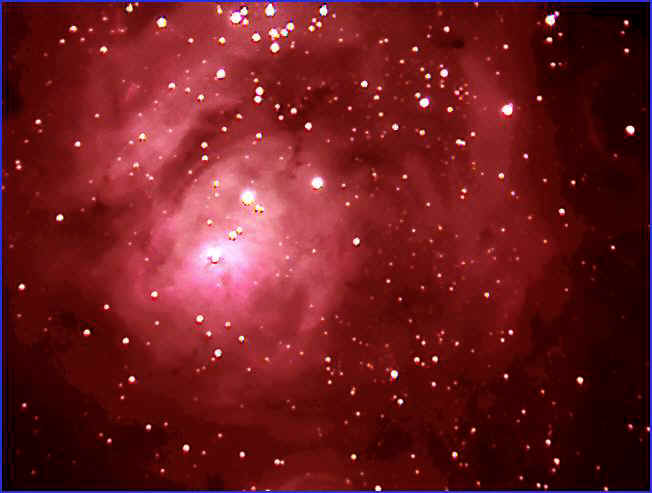 The Lagoon Nebula, M8, NGC 6523, Magnitude 4.6, Size 45.0' x 30.0', Constellation: Sagittarius
Image Details:
Scope: 1995 Celestron Ultima 8 OTA.
Mount: Celestron AS-GT (goto CG5).
Camera: Meade DSI Color.
Configuration: f/3.3 focal reducer, both spacers.
Effective Focal Length: 609mm, f/3.
Exposure: 20 images @30 seconds.
Filter: Meade IR blocking filter.
Acquisition: Meade Envisage. Quality = 30%.
Guiding: None.
Location: Deep South Regional Star Gaze, Camp Ruth Lee, near Clinton, Louisiana.
Date: 30 October 2005.
Post Processing: Meade IP.
Photoshop: Levels, unsharp mask, color balancing, .jpg conversion.
Comments: From dark sites, M8 is one of the most impressive nebulae in the sky. From light pollution, however, it loses much of its "oomph," and does not even begin to rival M42--as it does from good locations and reasonably southern latitudes. I recall one night at an especially good (weather-wise) Texas Star Party where, with the aid of a 12mm Nagler and an OIII filter, the Lagoon seemed to tower above me and was almost frightening in its majesty.
Like other emission nebulae, M8 is a site of star birth, with its glowing clouds being excited to luminance by the hot O type stars embedded within its folds. Please note that the open cluster associated with the Lagoon, NGC 6530, visible at the top of this picture, is now thought to be a foreground object--that is, it is along our line of sight to the nebula and is not actually embedded within it.
I longed to get a shot of this nebula the first summer I owned the DSI, but was not able to capture it until October after the stormy 2005 Gulf of Mexico calmed down a little. The major challenge was not the exposure. The Meade Envisage software pretty much automates that and even makes guiding unnecessary, no, the problem was getting the color looking "natural," something I think I was fairly successful with.
---
Return to Uncle Rod's DSI/CCD Page
---